Polygonatum biflorum
After roughly 66 months of writing "plant of the month" posts (I skipped a few since October 2010), I was surprised to discover I hadn't featured Smooth Solomon's Seal (
Polygonatum biflorum
). This is one of the most reliable, shade-loving, native wildflower plants in my garden. I didn't plant any of them, but they cheerfully nod throughout the garden and woodland every growing season.
Maianthemum racemosum
My post today is about Smooth Solomon's Seal,
not
its closely related "cousin" False Solomon Seal (
Maianthemum racemosum
), also called Solomon's Plume, which also grows in my woodland. (Also an excellent plant!) The two plants look very similar, but have slightly different growth patterns and very distinct blooms.
When Smooth Solomon's Seal emerges (as it is now in my garden), it
begins as a straight shoot
with a green tip, and slowly bends as its leaves unfurl.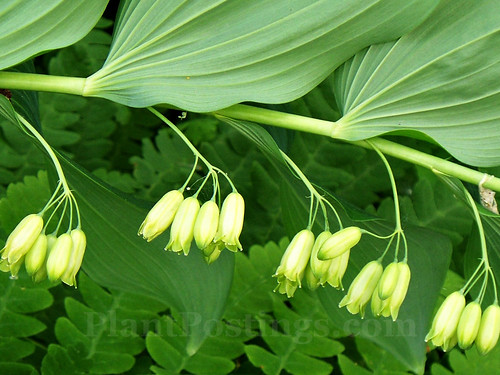 The individual flowers hang like miniature bells under the stems and foliage.
As the blooms mature, their stripes and yellow-green hues gently blend with the plant's foliage.
Even after blooming, the stems and foliage add great structure to cut arrangements.
Smooth Solomon's Seal plays well with ferns ...
And daylilies ...
And Hosta species and Bleeding Heart (
Lamprocapnos spectabilis
).
Smooth Solomon's Seal, notes the
Lady Bird Johnson Wildflower Center
:
Prefers shade or partial shade;
Will tolerate sand to clay and dry to moist, acidic soils;
Attracts birds and butterflies;
Is native throughout much of North America (USDA zones 3 to 9); and
Provides food for mammals (roots) and birds (berries).
This plant regularly self-seeds and gently spreads throughout my garden, but I'm usually very pleased with where it lands, since it blends so well with other plants.
Plus, in late summer and early autumn its dark blue berries are striking (if the birds don't get them first)!
I'm linking this post to Gail's Wildflower Wednesday at
Clay and Limestone
and Diana's Dozens for Diana at
Elephant's Eye on False Bay
. Visit their blogs to read about excellent plants growing around the world.