"Every woodland garden needs Bloodroot." Try Googling that sentence and you'll see how many people recommend this magical ephemeral that pokes its way through the forest floor for a brief moment in time in early spring.
While it isn't blooming in my garden yet, Bloodroot
(Sanguinaria canadensis)
is one of the first plants to emerge in spring. It blooms quickly, as the spring sun warms the soil, but before deciduous trees add their leaves. You're likely to miss it if you aren't watching for it, because the blooms only last for one to three days.
One of the best descriptions of the "how" and "why" of Bloodroot's growth and pollination is in this article at
Native Plants and Wildlife Gardens
. No other plant is quite like it.
The single-stemmed large leaf and separate-stemmed bloom emerge side by side, with the leaf curled around the flower.
The blooms open during the day, and close up at night.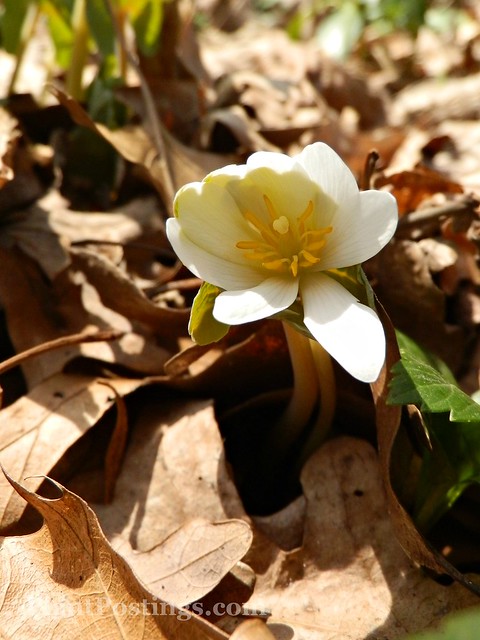 The name Bloodroot comes from the red color of the sap in its stems and roots. I haven't wanted to pull mine up, because I have so few, but here's
a link to a photo of the roots
from the USDA Forest Service. The plant was used by American Indians for many
medicinal purposes, and for dye and war paint,
according to the Lady Bird Johnson Wildlife Center.
Bloodroot is native through about two-thirds of North America--starting in the north from Manitoba and down through Texas in the south, and eastward through most states and provinces. It likes moist, wet soil; shade or part shade; and a healthy layer of leaf mulch.
I found out recently that the best way to propagate it is from its seeds, planted immediately in the soil before they have a chance to dry out. The seeds ripen about four weeks after flowering and are ready at that point to be harvested and planted.
I'm planning to sow some Bloodroot seeds this spring. I noticed a large, healthy patch of it last year that I hadn't noticed before, so that's a good sign.
Bloodroot is definitely one of my favorite plants, and I'm learning more about it every year. My friend, Karin at
Southern Meadows
, in Georgia, has Bloodroot blooming in her garden now, so visit her to learn more about this beautiful plant.
I'm linking this post to Gail's Wildflower Wednesday. Head on over to her blog,
Clay and Limestone
, to learn about favorite wildflowers from around the world.